Lam Siong Onn
Address:
811, Kenyalang Park, 93300 Kuching, Sarawak, Malaysia.

Telephone:
60-82-335589.
Born in 1937 in Kuching, Malaysia. LAM SIONG ONN is a self-taught watercolorist. One of the members of the Sarawak Artists Society, he is currently a member of both the Contemporary Malaysian Watercolorists Association (CMWA) and the Malaysian Watercolor Organization (MWO) in Kuala Lumpur.
Since 1970, he has participated in numerous exhibitions nationally and internationally, including the International Watercolor Exhibition in conjunction with the commemoration of the 1998 Seoul Olympiad, the Asian Watercolor Exhibition, the Malaysian Watercolor Society Annual Exhibition, and the Malaysian Artists Goodwill Tour Art Exhibition in Beijing.
His works have been exhibited in Taipei, Kaohsiung, Hong Kong, Beijing, Tienjing, Shanghai, Seoul, Bangkok, Kuala Lumpur, Singapore, Jakarta, Bali, Melbourne, Malmo (Sweden), and Tottori (Japan).
He is a recipient of several art awards, including the MWS Award (1985) and the Sarawak State-Wide Art Award (1988). His works are widely collected, and are included in the National Art Gallery Malaysia in Kuala Lumpur, the Sarawak Museum, Bank Negara, Malaysia LNG, Shell Sdn. Bhd., Kuching City South, the Mayor of Kuching North, Lee Hua Bank in Kuala Lumpur, Bank Utama, Petronas, Kuok Foundation in Kuala Lumpur and numerous others with private collectors.
---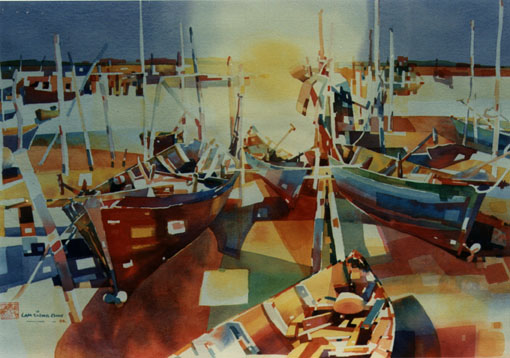 Title: Fishing Boats at Muara Tebas.
Size: 56x76 cm.
Year: 1996.
---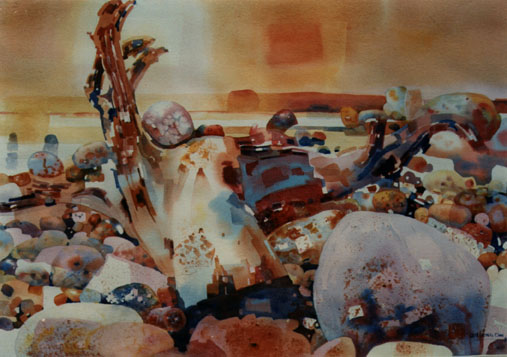 Title: Damai Beach
Size: 56x76 cm.
Year: 1997.
---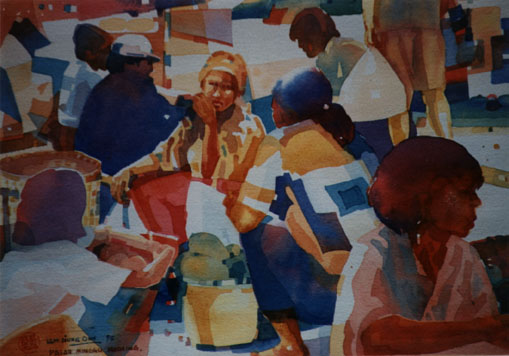 Title: Pasar Minggu.
Size: 56x76 cm.
Year: 1995.
---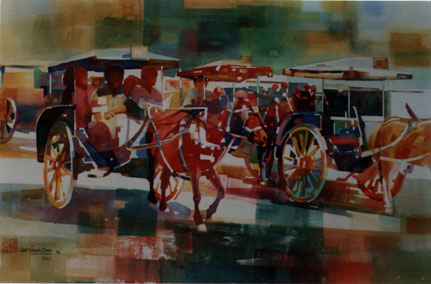 Title: Kereta Kuda at Denpasar, Bali.
Size: 56x76 cm.
Year: 1996.
---