Michael Nelson Achek
Address:
71, Lorong 2A5, Tabuan Laru, 93350 Kuching, Sarawak, Malaysia.

Telephone:
60-82-362236 (H).
60-82-243501 (O).
Born in Sri Aman, 1949.
Executive Committee Member, Sarawak Artists' Society.

Art Education
1970-71 Art Option Teacher's Course, BLTC.
1978 Art Specialist Course, MPIK, KL.
1983-1987 B.A. (Hons) Fine Arts, USM.
Career
1972-1978 Art teacher - secondary schools.
1979-1993 Art Education Lecturer - RTC Bintangor.
1993- Art Education Lecturer - MPBL Kuching.
Exhibition
1971 Batik Exhibition - Sarawak Art Council, Kuching and Students' Exhibition, BLTC.
1978 Pameran Tahunan MPIK, KL.
1984 Pameran Seni Pesta Pulau Pinang.
1985 Pameran Terbuka Balai Seni USM di Alliance Francaise, Penang.
1986 Pameran Pasar Seni USM, Penang and Pameran Seni and Teknologi Museum dan Galeri USM.
1987 Pameran Konvokesyen MPR, Bintangor.
1993 Pameran Tahunan SAS - Bangunan Tun Razak, Kuching.
1994 Gawai Exhibition - Hilton Kuching, SAS Contemporary Show - DTR Kuching and Techno Graphic Exhibition, Kuching.
1995 Batang Ai Hilton Exhibition and 10th Anniversary Exhibition - MBKS Kuching.
1996 Holiday Inn Damai Corridor Show.
1997 Kuching Festival Exhibition - DTR Kuching.
Display of Work
Gallery M.
Holiday Inn Damai Beach Hotel.
Artist's Residence.
Statement
'Art is a medium by which intrinsic statements are aesthetically expressed'.
---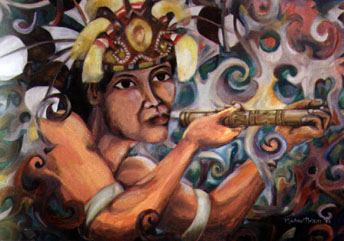 Title: Hunter.
Size: 66x82 cm.
Year: 1983.
Medium: Oil.
---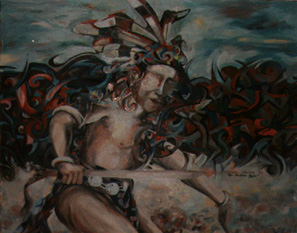 Title: The Illustrious Ngajat.
Size: 98x122cm.
Year: 1995.
Medium: Oil.
---