Pang Ling
Address:
No.1, Temple Street, 93100 Kuching, Sarawak, Malaysia.

Telephone:
60-82-647323 (H).
60-82-243739 (O).
A member of Sarawak Artists Society.

A great devotee to Arts in his young days.

His work included water colour, oil painting, copper sculptures and Chinese Art and with the study in the Nanayang Academy of Fine Art in Singapore in 1969, he started to make his achievement in batik paintings and set up his Sarawak Batik Artshop at Teple Street Kuching since 1976.

1962-1977. Being an Art Teacher in Chung Ling Sec. School and Kuching Middle School No. 3 repectively.

He was invited by Sarawak Art Club to take part in an exhibition for the visit of Queen Elizabeth The Second, HRH, the Duke of Edinburgh and Princess Anne in 1972.

His batik paintings which composed of the Sarawak longhouses people life and the beauty of the Sarawak Orchids have attracted many tourist from all over the world, especially from America, England, France, Germany, Japan, Korea, Australia and Denmark.

In Kuching he does hold one-man Batik Art Exhibition for quite a number of time. His works also go on display in New York's Art Gallery. With the help of Mr. Gerald A. Candler, Mr. Pang held his art exhibition first time overseas in New Jersey in 1975.

As a dedicated artist, he aims high and expects every piece of his work to be better than the previous. His talent led him to the way of success.
---
---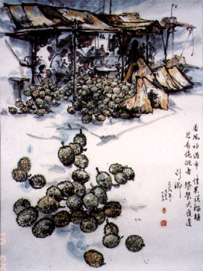 ---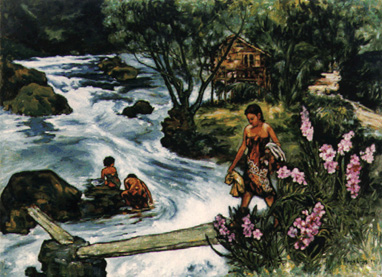 ---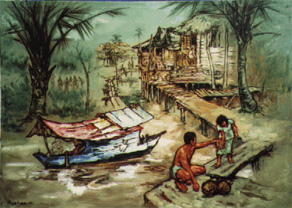 ---
---