Chin Kee
Address:
327, Kenyalang Park, 93300 Kuching, Sarawak, Malaysia.

Telephone:
60-82-331157.
Born in 1930, China.

Graduated from Ling-Nan Art School, Hong Kong under the guidance of Chao Shao An..

Membership:
Sarawak Artists Society (Founder and Advisor).
Kuching Chung Hua Arts Association (Advisor).
Committed to Art Education in Primary and Secondary Schools for more than 40 years and established own studio.

Exhibitions and Activities:

Held one-man-show locally in Malaysia as well as abroad. Invited to exhibit in Singapore, Taiwan, America and Philippine.
1973 and 1983, Invited for life demonstration at the Dewan Tun Abdul Razak hall during the 10th and 20th National Day Celebrations.
1975 - served as Jury for Chinese Painting Competition organized by the Department of Youth and Culture.
1980 - Chinese Art Exhibition in Kuala Lumpur, Mellaca and Seremban.
1983 - Sarawak-Singapore Art Exchange Exhibition at Dewan Tun Abdul Razak, Kuching.
1990 -

Invited for demonstration at Sarawak Cultural Village.
Invited to design the Chinese Plate for a Hero's Memorial in Sarawak Museum.
Invited to participate in Senior Artists Exhibition in Singapore.
Serve as jury for Kuching Festival Art Competition.

1991 -

Participated in International Art Workshop help in Kuching.
Participated in International Ling-Nan Art Society's Exhibition in the United States.

1995 -

Art Exhibition in Miri organized by the local Youth Section of Chinese Chamber of Commerce.
Invited to participate in Senior Artists Exhibition in Singapore and the Philippines.
Invited to exhibit in the United States by the American Chinese Art Society.

1996 - Advisor to International Arts and Calligraphy Exhibition held in Kuching.
1997 - Participated in Sarawak, Sabah and Brunei Joint Art Exhibition.
---
Title: A scenery of Matang.
---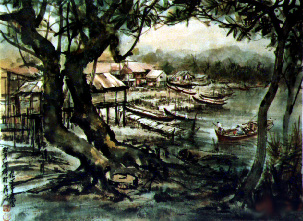 ---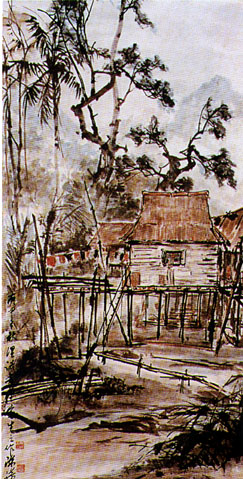 ---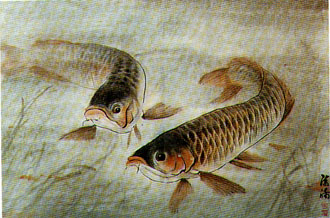 ---