Gerald T.J. Goh
Address:
233, Kim Seng Road, Off Pisang Road West, 93150 Kuching, Sarawak, Malaysia.

Telephone:
60-82-255250 (H)
60-82-572339 (O)
010-8165368 (HP)

Fax:
60-82-426252
Gerald T.J. Goh comes from a locally renown family of potters. As such, he is undeniably installed with a brain for clay. In addition, he has an eye for other potential artistic ventures. Gerald plunged into the world of pottery in his early teens. Ha had always been conscious of the need to develop and upgrade the standard of the then much sought after traditional pottery, before the market got tired of its monotonous design. Trained under the Duncan Education Services in the ceramics field, this has equipped him with a lot of options for further development. Gerald taught for three ears in an effort to popularize the art of ceramics and cultivated great interest in all attempts of preserving the endangered Borneo heritage. He assisted the State Agriculture Department in a project which aimed at upgrading the clay bead-makers of Long Tuma, Lawas by improving the production process, both technically and artistically. Moreover, Gerald was a member of the organizing committee for a recent Unimas and Sarawak Museum joint project and seminar which aimed at preserving as well as reviving the traditional Iban pot-making craft.
Gerald has participated in numerous arts and crafts exhibitions of varying scales since his public debut in "The Contemporary Malaysian and British Crafts Exhibition" which was held throughout the nation in the year 1990. He amazed and captured art enthusiasts with his clay figurines and pots collection. In that same year, Gerald emerged as one of the finalists in the state-wide "Sarawak Young Designers Contest". Besides clay, Gerald has recently found another medium to express his ever increasing passion for art, oil on canvas. his oil paintings emphasized a lot of concern on tribal culture and practices which is fast vanishing in this modern world.
Currently, Gerald is the managing partner of Barito Clay Artifact, a factory cum studio involved in the manufacture of authentic pottery and clay artifacts, daringly combining both the contemporary as well as traditional approach. The company's products cater widely to market demands and trends via its customized designs. Gerald is personally involved in the evolution of all ranges of clay souvenir items, which incorporate his original techniques and ideas. The uniqueness of his creations appeals to both the local as well as foreign markets. His mission in life is to present Sarawak on the international stage through his works, be it clay artifacts, oil paintings or other artistic ventures.
---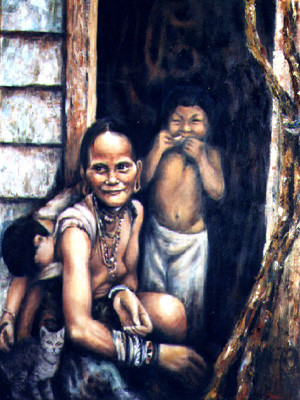 ---
---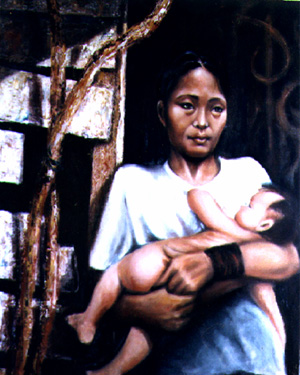 ---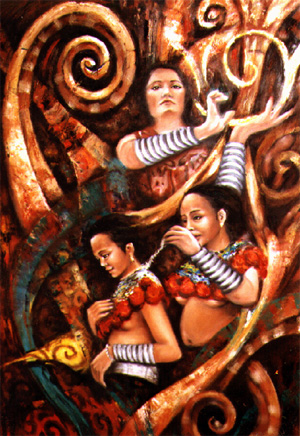 ---