David Chew Y. H.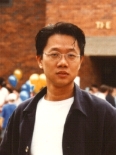 Year of Birth: 1973
Address:
90, Kenyalang Park, Jalan Cahaya, 93300 Kuching, Sarawak, Malaysia
Telephone:
082-331834
Email:
davsun@tm.net.my
Personal Virtual Art Gallery:
www.geocities.com/davsun2000
Watercolor is the medium of choice of mine, secondly is Oil Painting. I do sketching when I don't have enough time to paint. I love Watercolor as it gives me a very frothy, and freedom sensation. Whereas, Oil Painting give me a feel of pouring and ceremonial. Photographing is one of my hobbies too. Therefore, I can apply some of the Art knowledge into my photo shooting. Furthermore, photos that I had taken can be a reference profile for my painting. The journey of my art learning started since 1980. I joined The Gallery Of Zhejiang Painting Academy from 1983 to 1992. The journey of my learning will never be ended...


---
"Your perception and the truth..."
"Have you ever seen the sky?" Most of you may answer, "Yes! Of course!" Take a moment and imagine the sky that you have seen. Blue and White, sometime Gray, Orange in the evening and Black in the night. "When was the last time you saw a sunset or a sunrise?" Most of us who are busy in our daily life would not bother to observe our environment. Take a moment to observe the surrounding of you, such as the sky this evening, you'll surprisingly see more things than what you had imagined earlier. I'm trying to bring out this statement via my painting. The world is beautiful and full of colors and she's changing continuously, just that most of us never observe carefully...

STATEMENT
"An Art is more than just a physical presentation as she united the world of mind-body."
Travel:
Malaysia
Brunei Darulsalam
Australia
Society:
Sarawak Artists Society (1999 - current)
Head of Art and Design section of Graduation and Reunion Organizing Team (1994 & 1995)
Head of Poster Designing section of Chinese Association (1990-1991)
Competitions:
1st in The Entire 5th Division Drawing Competition (1989)
1st in Drawing Competition held by Maksak Wanita (1988)
---

TITLE: Evening Bath
YEAR: 1999

---

TITLE: Under Water
YEAR: 1999

---

TITLE: Sea Side
YEAR: 1992

---
Visit my personal Virtual Art Gallery for more art work.