SPACE: ABOVE AND BEYOND NEWS
General
After much lobbying Space: Above & Beyond is finally listed in BBC Online, in Cult Pages. Check it out at http://www.bbc.co.uk/cult/spaceab.shtml.
The latest StarBurst Special (#35) magazine has the results from their 1997 readers poll. The four most popular TV series are:
Babylon 5
X-Files
Star Trek: Deep Space Nine
Space: Above and Beyond
Only Babylon 5's percentage was given, at 25% down from 31%.

Cast and Crew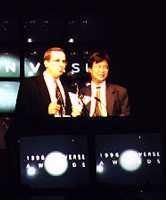 Glen Morgan and James Wong have started filming a pilot for CBS-TV called Skip Chasers, described as a humorous buddy drama about bail bondsmen. It co-stars Arsenio Hall and George Eads. Doug Hutchison (Elroy-EL) has been cast too. He has this to say:
Hey, SAABers -

The cast and crew *rawk*. Glen and Jim are boss bosses. We're shooting in a strip club this week. Life is rough.

When the series flies, I see Jimmy Morrison playing "Marty," the cracker a-hole bounty hunter with a chip on his shoulder; Joel de la Fuente as "Big Daug Dong," the Asian pornographer drug lord; and Lanei Chapman as "Smoochy Pooch," the female rendition of "Huggy Bear." The possibilities are endless.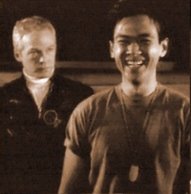 James Morrison has been cast in an episode of the NBC-TV series Profiler. It'll film in April, and probably air in May. He is also planning a benefit reading of his latest play, Being Frank, in May to benefit a yet-to-be-determined rape and incest crisis center, possibly at the Stella Adler Theatre in Hollywood. He'll direct Elizabeth Berridge and Jake Johannsen.
Joel de la Fuente is in rehearsal for The Peony Pavilion, a reworking of one of China's most celebrated operas, until the beginning of May. The show then begins its worldwide tour -- they'll be in Vienna until around May 19.
Fandom
Neutral Zone Convention: Some sounds from the Newcastle convention are available online. Guests included James Morrison and Tucker Smallwood. You can also view pictures of the con here.
Here's a list of the April-May 1998 Ready Reserves conventions:
APRIL
Balticon 32
April 10-12
Baltimore Omni Inner Harbor Hotel, 101 West Fayette St., Baltimore, MD
http://www.balticon.org/
Timeline '98
April 18
Regal Cinemas Movie 15, 3301 Plank Rd., Fredericksburg, VA
http://www.horizonscybercafe.com/timeline.htm
A "Lost In Space" con held at a movie theater, with screenings of the new movie. And they invited the SRR!
Earthstation Edmonton '98
April 17-19
Regency Hotel, 7230 Argyll Road, Edmonton, Alberta
http://www.tgx.com/sfcon/events/earthstation97/
Sean O'Sullivan is coordinating this.
MAY
Disclave '98, May 1-3, Washington, DC has been cancelled.
Possibilities
MARCON 33, May 1-3, Columbus, Ohio
CONduit 8, May 15-17, Salt Lake City, UT
LepreCon24, May 15-17, Casa Grande, AZ
Northeast Supercon, May 15-17, Kiamesha Lake, NY
AgamemCon '98
May 22-24
Burbank Airport Hilton, 2500 Hollywood Way, Burbank, CA
http://www.primenet.com/~shadocat/agamemcon.html
Several Space actors are interested in this one, Kate Duncan is working on it.
As always, if you're able to work any of these, please contact Kate Duncan!
Merchandise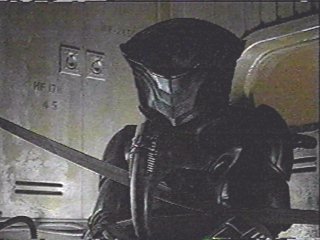 Kristian Sorensen, who played Chigs in several episodes, has a supply of 8x10 color photographs, in a choice of either
Full battle armour, holding Chig blaster, with the helmet on;
Full battle armour, holding Chig blaster, with the helmet off and his face (not the Chig ambassador makeup)
For US$5.00 to cover photography and postage costs, he'll be happy to autograph a photo and mail it to you.

His mailing addy is:

Kristian Sorensen
P.O. Box 931042
Los Angeles, CA 90093-1042

and his website is at http://www.geocities.com/hollywood/5088.

The following is from a newsletter of Q'S CONTINUUM SCI-FI HOBBY SHOP:
SPACE: ABOVE & BEYOND fans will be gratified to hear that we have finally tracked down and struck a deal with ESPI Productions, probably the most prolific of the SPACE garage kit makers. New to our shelves:

Chig Fighter (1/48 scale - white resin) - By arrangement with SPACEMAM of the UK, ESPI has reworked this kit and added a base. For those interested in doing this piece, I HIGHLY recommend that you beg, borrow, or steal a copy of the episode "River of Stars" which has the best Chig Fighter footage in the entire series to use as reference material. SRP: $59.95
Chiggy von Richthofen (1/48 scale - white resin) - This is an ESPI original. It is the experimental Chig Fighter seen mid-season for two episodes that is ultimately splashed by Col. McQueen. SRP: $95.00
SPACE CHIG (1/8 scale - white resin) - Chig warrior in full battle gear. The only other figure of this subject comes from England and retails for nearly twice the price. SRP: $79.95

COMING LATER THIS SUMMER

USS SARATOGA (white resin - 13.5 inches long) - SA-43 Endo-Exojet based on the Modelsmith's designs for the 1:1 scale replica built for the series pilot.
For more information, write to DKEmpire.
Pictures taken from The Morgan and Wong Worship Ground (with permission), and Mission Status.