SPACE: ABOVE AND BEYOND NEWS
General
The April issue of Starlog (#249) has a good three-page story on Glen Morgan and Jim Wong, written by Marc Shapiro. It focuses mostly on Space but also on The X-Files. There's color photos of the Wild Cards and McQueen, as well as quotes from Morgan and Wong. The article is quoted as saying:
"Space", however, isn't completely, utterly, totally dead. The show is now airing in reruns on the Sci-Fi Channel and in overseas markets. And the release of "Starship Troopers" -- its literary source a precursor to "Space: Above and Beyond" -- might, along with the current aggressive fan-led campaign, spawn a "Space" revival.
© Starlog
Cast and Crew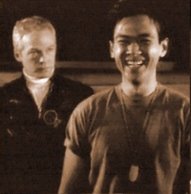 Joel de la Fuente has recently performed in a play at Naked Angels/The Tiffany Theatre. According to Kate Duncan, Joel said, "The name of the evening is: Winter Shorts 2. There are six short plays in the evening. I'm in the second, entitled Little Bites. It is directed by Josh Hamilton and I am co-starring with Dina Spyby (most recently of Men Behaving Badly)."
Fandom
Operation Adopt-a-Bill: the Space Ready Reserves needs your help in order to continue to advertise on the Sci-Fi Channel and in various publications, as well as to continue to drum up grass-roots support for Space at conventions, and to meet other operating costs. To get a list of SRR bills needing adoption, go to http://ucsu.colorado.edu/~rayj/logistics/op.adopt.html. You can reach these pages and the sponsors list from the main logistics webpage.
Merchandise
New Ready Reserves t-shirts, as well as other paraphernalia, can be seen at http://www.planetx.com/~kduncan/spacedock98.html. An order form is also provided. More merchandise is available at http://www.freeyellow.com/members/srrlogistics/club_merch.html, which has pictures and descriptions of the items. If you can't web-browse and need a text version complete with order form, you can send mail to the auto-mailer at srrlogistics-info@freeyellow.com.
Pictures taken from The Morgan and Wong Worship Ground (with permission), and Mission Status.