SPACE: ABOVE AND BEYOND NEWS
Cast and Crew
James Morrison has completed his work on the film Abilene, describing the experience as "a joy". He'll soon be working onstage, costarring with Karen Allen in the world premiere of Getting and Spending at the Old Globe Theatre in San Diego. James will play the greatest defense lawyer in the country who is enlisted for one last, big case before he goes off to join a Franciscan monastery. The play is written by Michael J. Chepiga, and will be directed by John Tillinger.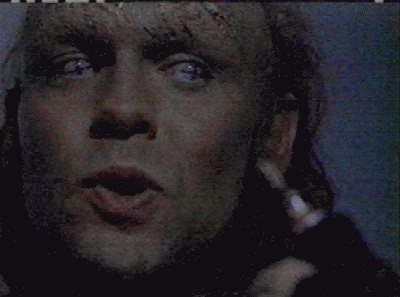 Excellent news from Doug Hutchison -- he just landed a lead role in the film adaptation of Stephen King's bestseller, The Green Mile. Doug will play sadistic prison guard Percy Wetmore, acting opposite Tom Hanks, David Morse and James Cromwell.
A bit more on The Green Mile: The director will be Frank Darabont (director: The Shawshank Redeption, part two of HBO's From The Earth to the Moon; uncredited writer: Saving Private Ryan). Filming starts in mid-July.
If you'd like to send congrats to Doug, his address is:
Doug Hutchison
c/o Mama Tooms
P.O. Box 23397
Seattle, WA 98102
NOTE: If you're requesting a photo, please enclose an 8.5x11-inch, self-addressed, stamped envelope (thanks in advance from Mama Tooms!).
Joel de la Fuente is currently taking a break from Peony Pavilion -- the show is on hiatus until September, when it will be presented at the Barbican Theatre in London. Joel says he had a "great time" performing in Vienna, and looks forward to its run in England. Any British SAABers wanting to see Joel onstage, check out http://www.albemarle-london.com/its.html.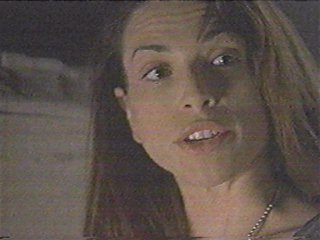 Tasia Valenza ("Kelly Winslow") has been staying busy, mostly working in voiceovers. She did an indie film, Gut Instinct, around the beginning of the year -- it's currently trying to find a distributor. She's doing a sci-fi animated series called Tekkaman, a popular Japanese show that's coming to the States. She plays Natasha, whom she describes as "a strong, hard-ass commander." Tasia also travels to colleges around the U.S., lecturing on eating disorders (she has been doing that for several years). And if you see a JCPenney ad on TV -- that's her voice.
Fandom
Convention help needed:
Can anyone help staff a Ready Reserve table at Shore Leave, June 27-28 in Hunt Valley, Maryland?

Guests this year are Robert Duncan McNeill (ST:Voy), Bill Mumy (Babylon 5), Erin Gray (Buck Rogers) and J.G. Hertzler (ST:DS9). Website is at http://members.aol.com/ShoreLeave/index.htm.

If you can work one or both days, please e-mail Kate Duncan.

Anyone able and willing to staff a Ready Reserve table at a convention near Cincinnati, July 18-19, please e-mail Kate Duncan.
Merchandise
Q's Continuum's complete SAAB listing:
SPACE: ABOVE & BEYOND
ES0001 - Chig Fighter (1/48 scale craft) - $60.00
ES0002 - Chiggy von Richthofen (1/48) - $95.00
ES0003 - "Space Chig" figure (1/8 scale) - $80.00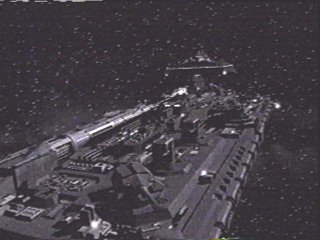 NEW - Limited Availability
ES9719 - "SCVN SARATOGA" - $99.95
1/720 scale (15 3/4" in length) resin and white metal. Experienced modelers only. Call for availability before ordering.
ESPI is also in the process of making a much improved Hammerhead, but they don't expect it to be out before August. Skyhook models in Ca has a 'dropship' (ISSCV probably) kit in progress as well.
Pictures taken from Mission Status, and Doug Hutchison Devotion Page.